Winner of the Eighth Annual Earl C. Benson Concerto Competition:
Lauren Swee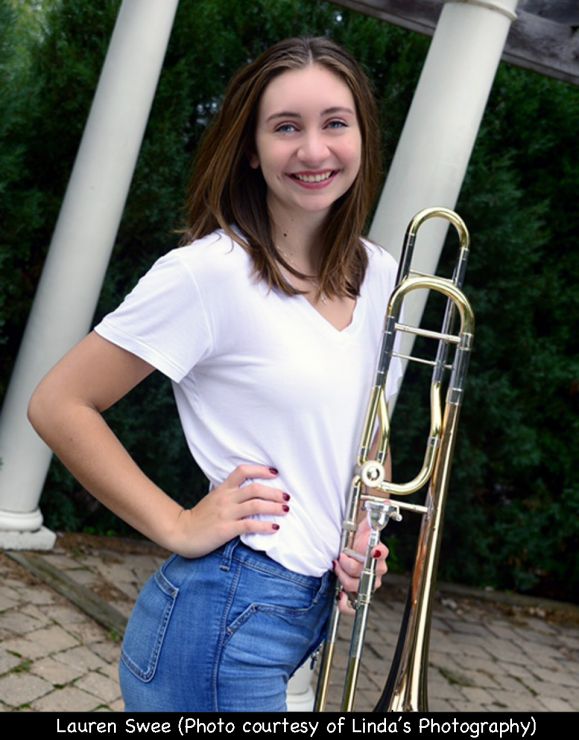 The winner of the 2016–2017 competition is Lauren Swee, a senior at Waconia High School. Her parents are Christine and Karl Swee, and her brother and "first trombone role model" is Colin Swee, a junior at the University of Wisconsin–Madison.
Lauren is the lead trombonist in her school's Jazz I Band and varsity show band, Megawatt, and she is the principal trombonist in the school's Wind Ensemble. A five-year marching band veteran, Lauren enjoys goofing off with the low-brass section.
Lauren was selected to play in the 2015–2016 MMEA All-State Concert Band (second chair) and the 2016–2017 MMEA All-State Symphonic Band (first chair). She has also participated in honor bands at the University of Minnesota–Twin Cities, University of Minnesota–Duluth, St. Olaf College, Gustavus College, and University of St. Thomas. At numerous jazz and solo/ensemble contests, Lauren has been recognized as an outstanding soloist.
Lauren's high school band directors are John Pohland and Phil Snyder, and she studies privately with both Kiyoshi Miyamoto and Josh Becker. She thanks all of them—as well as her accompanist and friend Shelly Hilgers and countless friends, family, fellow music students, and other music educators—for their support throughout her high school band career.
In addition to playing trombone, Lauren loves to ski, run, and go to Wendy's with her friends. Lena, Lauren's golden retriever, is her pride and joy and keeps her motivated through many hours of practice. Next fall, Lauren will attend the University of Minnesota–Twin Cities, where she will continue to practice the trombone.
Lauren will perform as a guest soloist with the Medalist Concert Band on Sunday, May 21, at 4:00 p.m. This concert, Music for a Festival, is the band's finale performance of the 2016–2017 Bloomington Center for the Arts Music Series. Ticket are available online, by phone (952-563-8575), and at the door ($14 Adults, $12 Seniors and Students under 25).
EARL C. BENSON COMPETITION WINNERS
2010 | Carley Olson, clarinet | Watertown HS
2011 | Timothy Morris, euphonium | Hopkins HS

2012 | Hallie Houser, flute | Eastview HS

2013 | Brandon Caplin, percussion | Apple Valley HS

2013 | Kaitlyn Mann, clarinet | Rosemount HS

2014 | Olivia Nichols, alto saxophone | Eastview HS

2015 | Brenna Sherman, flute | Rochester Lourdes HS

2016 | Anders Peterson, clarinet | Northfield HS
2017 | Lauren Swee, trombone | Waconia HS