ABOUT THE COMPETITION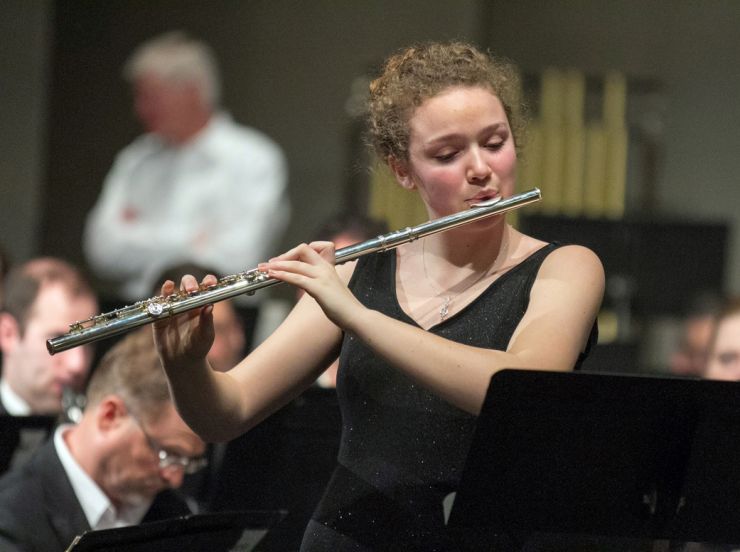 The Medalist Concert Band is pleased to announce its sponsorship of an annual performance competition for high school band students. Named for a long-time music educator and the original conductor of the Medalist Concert Band, the Earl C. Benson Concerto Competition is now in its ninth year.

The purposes of the competition are to identify talented wind and percussion musicians and to encourage high school students to pursue further musical study. In doing so, the competition supports one of the key tenets of the Medalist Concert Band's mission statement: to provide young musicians with a model of music as a lifelong hobby.
APPLICATION REQUIREMENTS AND PROCESS
The Earl C. Benson Concerto Competition is open to students who are enrolled in schools in the Twin Cities metropolitan and surrounding area, as well as selected outstate areas. Students must be in grades 10–12 during the 2017–2018 school year; they cannot already have graduated from high school. A $25 nonrefundable application fee is required and must accompany the completed application and DVD recording.
The application deadline has passed and we are no longer accepting applications for this year's competition.
The winner of the Earl C. Benson Concerto Competition will receive a $1,000 cash award and be the featured soloist with the Medalist Concert Band at its 2017–2018 finale concert on Sunday, May 20, 2018, at 4:00 p.m., at the Schneider Theater in the Bloomington Center for the Arts (1800 West Old Shakopee Road).
Questions? Please contact our conductor Professor Jerry Luckhardt.
EARL C. BENSON COMPETITION WINNERS

2010 | Carley Olson, clarinet | Watertown HS
2011 | Timothy Morris, euphonium | Hopkins HS

2012 | Hallie Houser, flute | Eastview HS

2013 | Brandon Caplin, percussion | Apple Valley HS

2013 | Kaitlyn Mann, clarinet | Rosemount HS

2014 | Olivia Nichols, alto saxophone | Eastview HS

2015 | Brenna Sherman, flute | Rochester Lourdes HS

2016 | Anders Peterson, clarinet | Northfield HS
2017 | Lauren Swee, trombone | Waconia HS